Horrific FX is the creation of Kevin Kovak. From an early childhood memory of watching George A. Romero's Night of the Living Dead, Kevin had an extreme love, and interest in the horror genre, that only escalated in later years after seeing John Carpenter's Halloween. Growing up in the midst of the 1980's slasher craze, Kevin spent countless nights watching anything horror related. Rivaling his love for horror, is his love for haunted attractions. From the age of 6 with his first visit to a local Detroit, Michigan haunted house, followed by picking his annual Halloween pumpkin, Kevin knew he had experienced something that had changed his life. Kevin spent several Halloween nights wearing his own costumes that he had created with old clothing, accessories, his own make-up application, and some imagination.
In high school, Kevin discovered a talent, and love for drawing, and art, and worked countless nights drawing pictures to go along with his short horror stories that he would write. Then, shortly after High School, Kevin used his drawing talents and parlayed them into Computer Graphics, which later turned into a love for web design. During the time of his computer work, Kevin still never lost his enduring love for horror, as he worked for several haunted houses in Michigan as both an actor and make-up artist.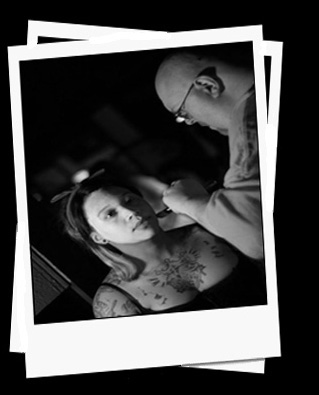 After taking a limited special fx make-up class years before in college, he decided to go out and pursue some professional special fx make-up classes in order to perfect his craft. He was taught detailed make-up fx from a leading make-up fx artist in the industry who has worked on several projects including the Academy Awards, and has worked with several top celebrities in Hollywood. Armed with an extreme love of all varieties of horror films, and a very deep knowledge of the haunted attraction industry through years of haunted house work as both an actor and make-up artist, and from his all horror podcast (Haunted Radio) he has parlayed his talents into a full time special fx make-up application and teaching career, and thus, Horrific FX was born!!
Kevin is state accredited and has been professionally trained in several types of make-up fx such as bruises, cuts, wounds, gashes, prosthetics, zombie make-up, burns, and more. He also has been taught the art of mold making, and body casting. In addition to all of those aspects of special fx make-up, he has also learned highly detailed old age make-up, bald-capping, hair application, and much more. If you hire Horrific FX you can rest assure that you will be getting fair prices for 100% professional award winning work.
Horrific FX also features an online store where you can purchase several different types of our incredibly popular fake blood, prosthetics of many different shapes and sizes, props, make-up, fingernails, and much more for your haunted attraction, Halloween party, zombie walk, or just for your own collection. Be sure to visit our official Online Store often as it is open year round and there are new products being added constantly. You will find props, prosthetics, fake blood, make-up, and so much more.
Kevin, also, is available for bookings for make-up fx sessions for haunted attractions, Halloween parties, zombie themed events, films, events, drama performances, and much more. If you have any questions, or are perhaps interested in booking Kevin for a make-up session, please feel free to contact him via phone or e-mail as listed below. You will also find Horrific FX on most of the various social media outlets including facebook, twitter, instagram, snapchat, and more.